Corporate
The ability to innovate without losing sight of tradition and the strong bond with the territory have characterized our international success for over 60 years, which sees us present in over 40 countries around the world.
Who is AEC Illuminazione
A major player in the lighting sector, AEC has been an experimental workshop of ideas and innovation for over 60 years. In fact, since 1957 the Company has been able to achieve great international fame in thepublic lighting: sector: Milan, Berlin, London, Oslo, Auckland and Dubai are just some of the prestigious cities illuminated by AEC Illuminazione. Today the company is an important example of Italian industrial excellence, known and appreciated all over the world.
AEC Illuminazione in numbers
Made in Italy
AEC products are made in Tuscany
Foundation year
A history of over 60 years of passion for light and innovation
Worldwide presence
AEC is present with its commercial network in 44 countries around the world
R&D investments
In 2019 AEC invested over 10 million euros in Research & Development
The value of experience
We have capitalized on the know-how acquired in over 60 years of experience in international competition in all lighting fields and we know how to respond with enthusiasm and competence to the challenges of the global market.
We shape innovation.
Here visions are transformed into intelligent solutions.
We shape innovation.
Here visions are transformed into intelligent solutions.
"Careful observation and curiosity towards the world of lighting have always been the basis of the creativity and innovation that has made AEC Illuminazione a company that has been able to anticipate the times."
Faithful to perfection
Design and the pursuit of aesthetic and technical perfection have always been the essence of the AEC brand: a tradition in which the fusion of refined elegance, distinctive design and innovation guide our actions. Furthermore, we are Italians, we love the idea of being able to export the culture of beauty to every part of the world and every detail is essential for us. The design of our products is the perfect harmony between beauty and function, between technology, performance and emotion.
Driven by innovation
The future looks in only one direction and the pursuit of innovation has always moved our actions. The constant research and development of new, highly innovative forms of lighting have always guided the company's choices, leading to the development of solutions with cutting-edge performance and seeing the company as a creator of innovation with the filing of numerous patents already starting in the years' 60.
Inspired by tradition
By translating the legacy of the craftsmanship of the 1960s into industrial automation and technological innovation from today's industry 4.0, AEC Illuminazione has been able to intercept the needs of an increasingly vast market and reacted to the technological evolution of LED as a precursor, creating innovation, without limiting investments in machinery, laboratories and production plants, but without losing contact with tradition.
Our corporate assets? People.
The ability to innovate without losing sight of tradition and the strong connection with the territory have characterized our success, guaranteeing stable and sustainable development on a social, economic and environmental level. Being AEC means being part of a single team, projected towards the future, in which people are the most important asset.
AEC People
Employees
Who work at the Headquarters and who allow us to make a difference every day.
Women
We strongly believe in the power of inclusion capable of achieving great goals.
Average age
A heterogeneous and young team that allows you to have a better approach to future challenges.
Hours of training
The average annual training hours of refresher courses for all our staff.
52,000 square meters where to produce innovation
All AEC Illuminazione products are designed and manufactured entirely within our Italian production site
52,000 square meters where to produce innovation
All AEC Illuminazione products are designed and manufactured entirely within our Italian production site
AEC Total Quality System
The corporate philosophy, based on the concept of "Total Quality System", provides the concentration of all the design and production phases in the Italian headquarters: from research and development to the design and industrialization of the product, up to its distribution. Latest generation machinery, large investments, state-of-the-art laboratories and sophisticated automation processes characterize the production units of AEC Illuminazione, which distinguish it as unique excellence in the sector.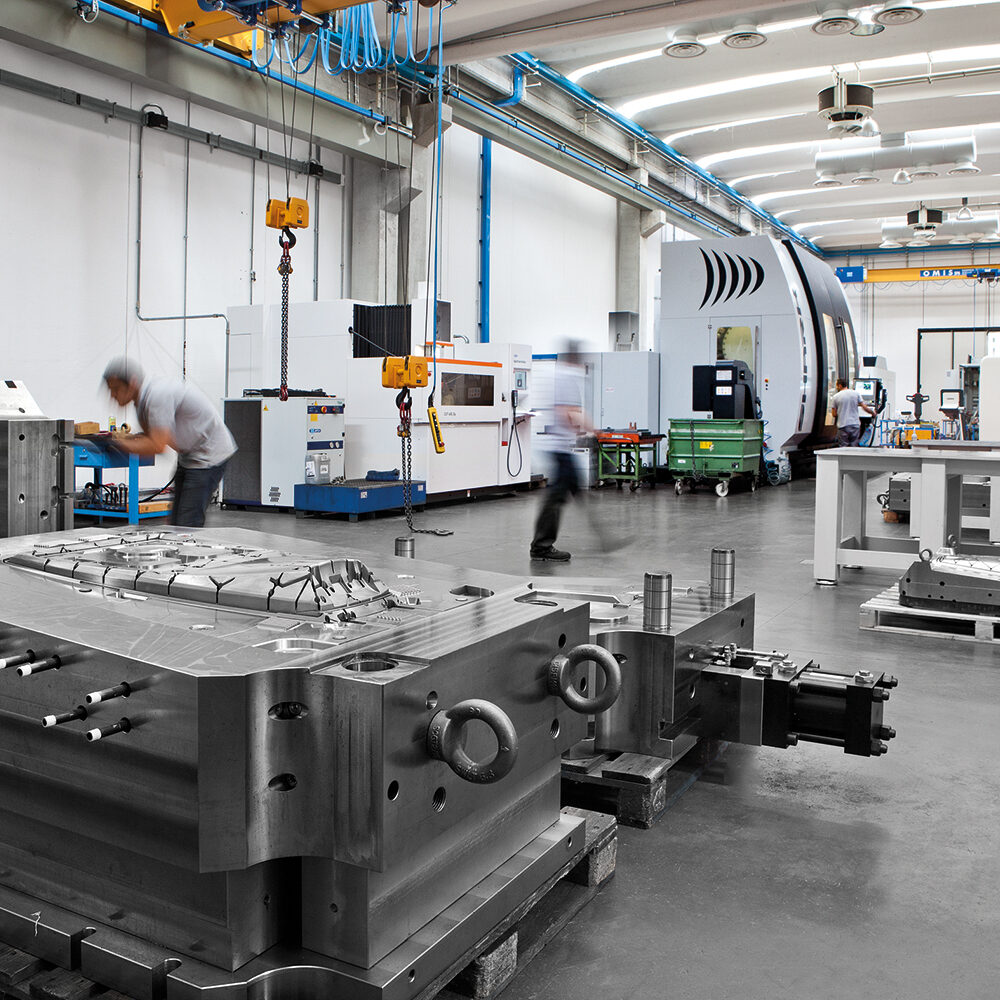 AEC Molds
Production of molds for aluminum die casting
AEC Illuminazione is a Green Company
Smart Factory 4.0
AEC Illuminazione is a highly technological reality, a true italian LED lighting manufacturer and with the advent of Industry 4.0, it has intensified its investments to fully convert its processes and today is 100% a sustainable Smart Factory 4.0. In fact, in the last ten years, important investments have been made in new machinery, collaborative robots, automated systems and digital data transmission technologies, in order to continuously innovate production processes, thus ensuring efficient production and high industrial competitiveness.
Our mission
Through our constant commitment to research and innovation, we want to develop lighting systems capable of improving the quality of life of people, while helping to reduce the impact on the planet. We want to make cities more environmentally sustainable, but also more liveable and safer for people at night. We work to spread a culture of sustainable light, transmitting our constant commitment to municipalities, institutions, designers and citizens.
"We investigate the needs and forms of use of light by people, studying the link between public lighting and life in cities and how this can affect the well-being of citizens."
Increase safety and livability
One of our main objectives is to improve people's lives through lighting that can guarantee greater safety and better livability. Whether it is a city context such as a busy street, a public park but also the lighting in work or leisure places such as inside a stadium, we want the light to add value and safety.
Improve spaces and cities
Light itself plays a fundamental role in improving the perception of space and redeveloping environments, but it can do it even more if enclosed in designer lighting fixtures, which integrate perfectly into the surrounding context, improving their value. This is why our research has always worked to offer technologically advanced solutions that are at the same time of great aesthetic value.
We look to sustainability
Everything in AEC Illuminazione looks to sustainability: from non-delocalized production, which mainly uses renewable sources, to the reduction of the packaging and transport necessary for the distribution of our products, up to constant research and development to produce increasingly efficient lighting fixtures that allow reducing the environmental impact of public lighting.
History is never just the past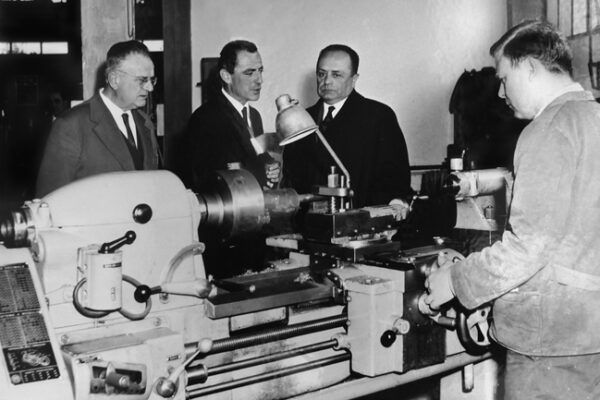 1957
Cino Cini founds AEC
The italian LED lighting manufacturer dedicated itself to the production of lighting for the commercial sector, specializing in metal furnishings and illuminated modular shelving, registering the first "Inca Bloc" patent in 1957.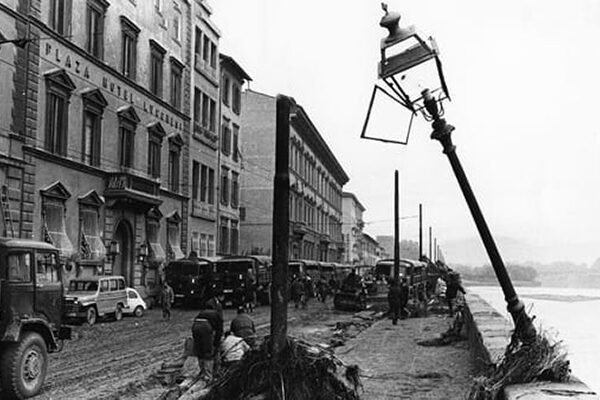 1966
New artistic candelabra for Florence
Following the devastating flood that hit the city of Florence, AEC provides the new decorative lighting of the city: an opportunity to start the production of artistic cast iron candelabra for the lighting of historic centers and parks.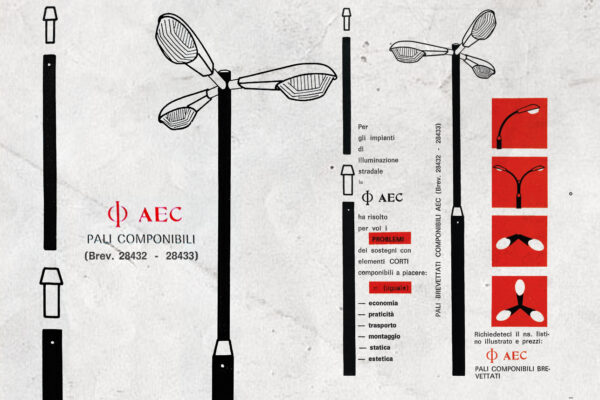 1967
Patent for modular public lighting pole
In 1967 Cino Cini registered his first patent for public lighting: a modular pole whose section could vary according to the customer's request. It was a great innovation for the time, which expanded AEC Illuminazione's notoriety.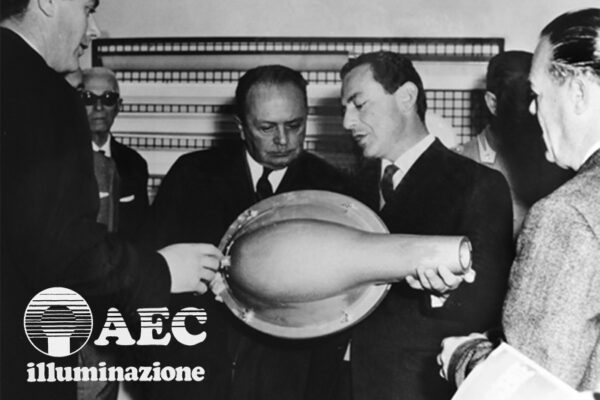 1970
The company changes its name to AEC Illuminazione
Convinced that light could really bring about a positive change in modern society, Cino Cini decided to combine the acronym "AEC" with that of "Lighting" and make the first investments to enter the street lighting sector.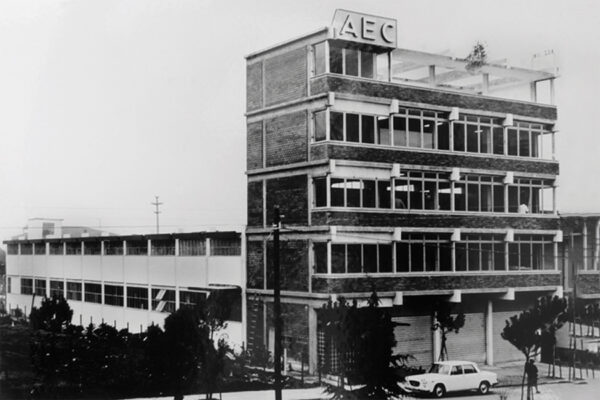 1982
It specializes in public lighting
AEC Illuminazione dedicates significant investments to the new production of street lighting fixtures, successfully entering the public lighting market, which will become the company's core business from these years.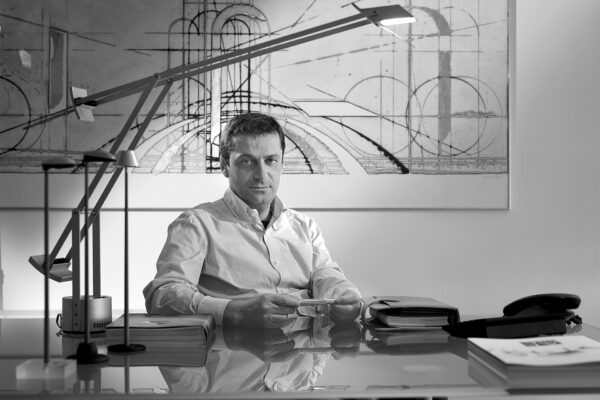 1984
Alessandro Cini takes over the leadership of AEC
Following the sudden death of the founder Cino Cini, his son, Alessandro Cini takes over the leadership of the company, carrying out the ambitious business growth and development project that will see the Company's dizzying growth within a few years.
Downloads about our company
Who certifies the highest quality of our products?
What might be of interest to you to learn more