Sport professional lighting: arena and stadium LED lighting
Enhance the experience with light show and dynamic content making your stadium a safer place in compliance with the regulations of the category.
Enhance the show with stadium lighting solutions
The LED floodlights for stadium lighting and large sports facilities have been designed by AEC to transform every football match into an amazing show. Each stadium is unique and the design of its lighting requires dedicated solutions. This is why AEC offers you, with the possibility of choosing a single interlocutor, the right solution to upgrade your stadium with LEDs. Enhance the show, create dynamic content and increase safety with the LED lighting fixtures for stadium lighting designed by AEC.
Why choose AEC for LED stadium lighting
All in compliance
Reach category and TV footage requirements
The LED floodlights for stadium lighting designed by AEC allow you to reach the requirements of the category to obtain an installation in compliance with the law. You will also be able to meet the parameters of television broadcasters with the aim of allowing high definition shooting thanks to flicker-free lighting.
Greater visual comfort
Uniform emission of the light beam and high quality of light
The LED stadium lighting floodlights designed by AEC guarantee a regular and uniform light distribution that considerably reduces glare phenomena, increasing visual comfort for players, match officials and spectators.
Unique experience
Turn every game into an amazing experience with light show
Through DMX control you can control every single LED stadium floodlight and create dynamic content. Create light show and thrill the audience with pre and post-match performances, increasing the fan engagement of your team and the reputation of your structure.
Increase the attractiveness of your stadium
LED stadium lighting systems made by AEC allow you to increase the reputation of your company. Going to the stadium will become a 360-degree experience and people will be more encouraged to arrive before the game to watch the dynamic content.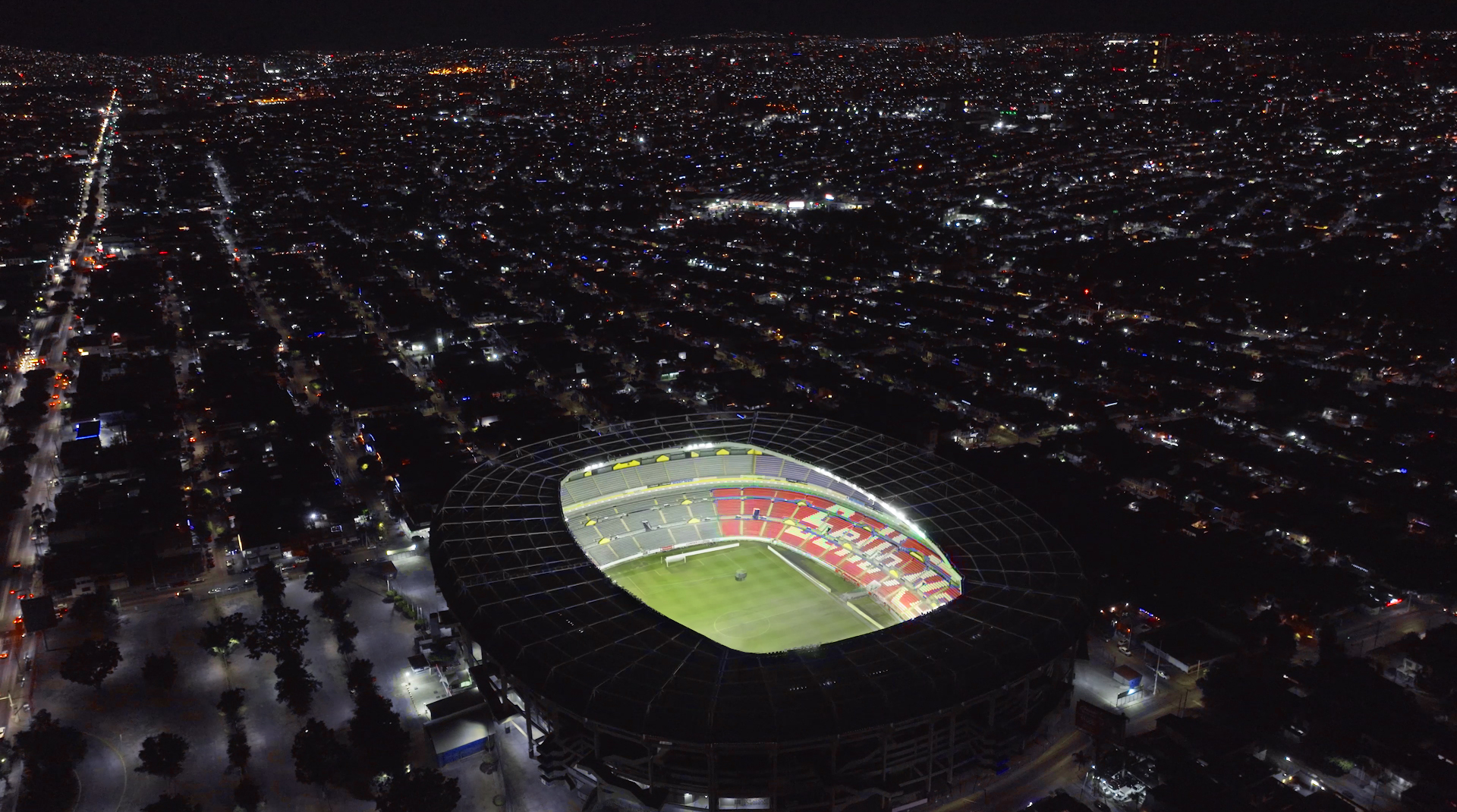 Professional stadium LED lighting
AEC professional stadium lighting solutions were chosen also in Mexico for the new LED lighting of Monumental Estadio Jalisco.
Discover more
Meet the requirements for television shooting
In stadiums hosting television events, the requirements for 4K HD and super-slow motion TV shooting are paramount. AEC professional floodlights for large stadium lighting have a high TLCI index (Television Lighting Consistency Index) which faithfully reproduces the colors of the field and feature flicker free light sources to guarantee perfect slow motion shots.
Enhance the show
Manage each floodlight individually thanks to DMX control
Enhance the show
Manage each floodlight individually thanks to DMX control
Single interlocutor, multiple services.
Choose a single interlocutor for the new LED stadium lighting due to a turnkey package designed to optimize all design and operational phases. Convert your installation quickly and safely thanks to the quality and know-how of AEC Illuminazione through our AEC SPORT SOLUTIONS brand.
Our stadium services in one package
LED lighting for every area of the stadium
They talk about us
"Venezia FC has chosen AEC Illuminazione for the new LED lighting of the Penzo stadium. This allowed us to reach Serie A standards and to welcome the fans again, giving them a unique atmosphere through light shows."
Venezia Football Club
Involve fans and set an experience for them
Fan engagement is the keyword for any sports club. Involving the fans more during your team's events is an action that can only be accomplished if you have certain services available that can build an intense bond between fans and the brand. Thanks to the entertainment systems offered by AEC for stadium lighting you will be able to offer fans memorable moments, strengthening their relationship with your brand and brand loyalty.
Your stadium as a global hub due to LED lights
Meeting fan expectations by gaining the admiration and recognition of your business sector requires a set of requirements to nurture a passionate fan base that is present on a regular basis at all your brand events. The stadium lighting solutions designed by AEC will help you ensure your brand's competitive advantage by offering fans a 360 -degree experience on an ongoing basis, allowing you to create a community based on loyalty and passion on a global level.
They talk about us
"We were looking for reliable solutions for quality and performance. This is why we have chosen AEC Illuminazione as the only interlocutor for the new LED lighting of the Alberto Picco stadium. An important example of Italian industrial excellence, able to provide us with a turnkey package."
Spezia Calcio
Discover our new professional floodlight for stadiums and arenas
The professional LED floodlight choose by Norwich and Venezia Football Club for LED stadium lighting
Discover our last projects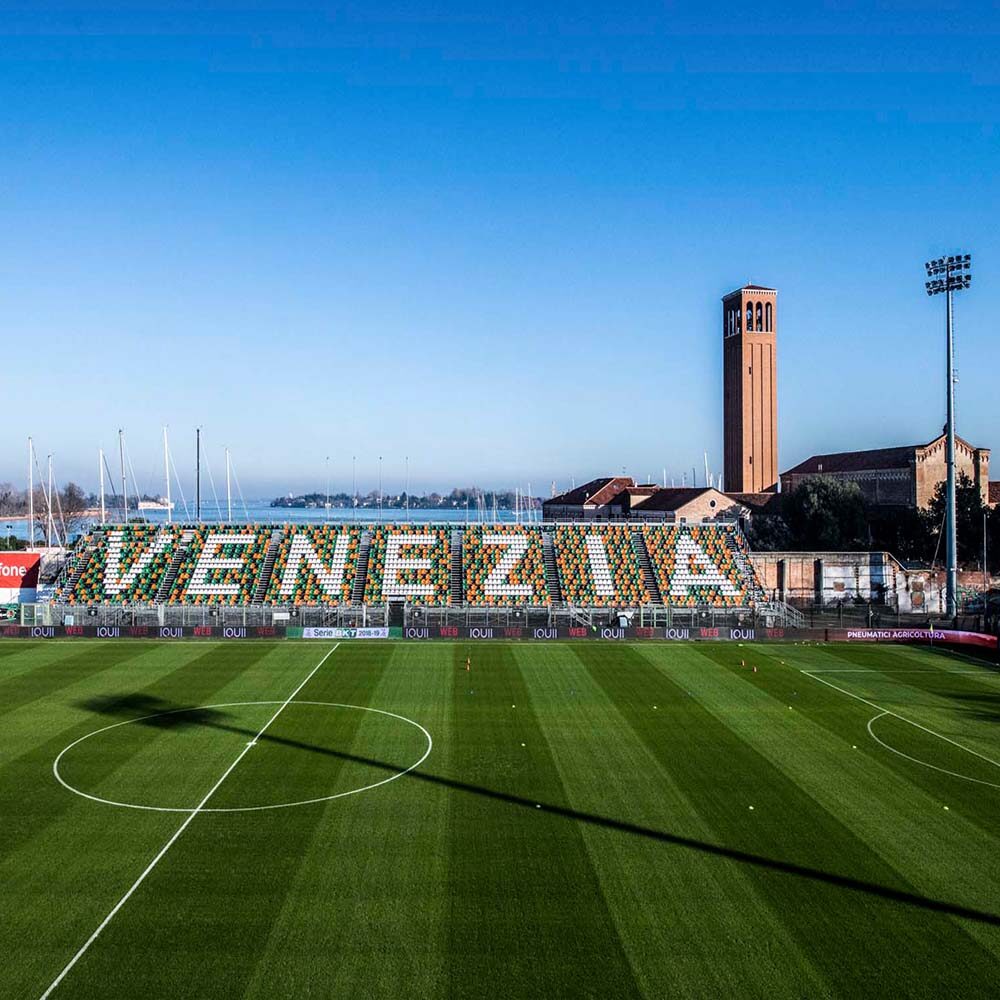 Venice Stadium
Redesign of the entire structure to comply with Series A requirements
Discover the project
Contact us for a free consultation
Trust the professionalism of an Italian company and the quality of 100% Made in Italy products
You can discover more about…