Commercial LED lighting fixtures: shopping centers and large scale distribution
Make your shopping center a welcoming place where the light is distributed in a correct and uniform way.
Enhance your brand with LED lighting
LED lighting in shopping centers and large retailers plays a fundamental role as it determines the customer experience. Retailers in shopping centers, wholesalers and shopping malls must therefore be able to guarantee shoppers the best possible experience through good lighting. In fact, light has an important impact on the brand and the way in which the place is seen. With LED floodlights for large scale retail lighting you get high visibility and uniformity of light throughout the entire area: essential to ensure perfect and clear movement of people within the place.
Using LED technology strategically
Brand awareness
Improve reputation
If your shopping center has clear, welcoming and uniform lighting, people will visit the place more willingly.
Visual comfort
Do not create visual disturbances
To ensure a positive experience for the buyer, you must guarantee them high visual comfort. When shopping, people shouldn't feel bothered by the light.
Light scenarios
Adjust the flow as you want
Save in electricity with dimmable LED solutions. Dimming means adjusting the luminous flux in an intelligent way according to needs.
The key element of your project? People.
Light has enormous power over people and has a decisive influence on them. Creating a welcoming environment invites people to come to your business premises and stay there for a long time. Creating the right harmony for people with light is therefore the key element of the project. AEC's range of optics has been designed to meet the specific requirements of indoor installations, respecting the various dimensions and different contexts. It is important to know how to choose the right optic for large scale retail lighting where it is really necessary, thus avoiding any waste of light and therefore an increase in energy costs. AEC optical systems guarantee uniformity of light without glare effects: essential to avoid any visual disturbance.
Use LED light to increase profit
Light and experiential shopping
When we need to light up a large sales area with LEDs or redevelop a space that has already been illuminated, we need to understand the concept of experiential shopping well. Today the buyer is no longer a distracted consumer but is very attentive to his needs. It is for this reason that LED lighting for large scale retail lighting plays a key role. Depending on the large sales space to be illuminated, you can choose a stronger, softer, warmer or colder light: our task is precisely to find the most suitable light for the large sales area that you want to illuminate.
The importance of choosing who to rely on
Thanks to the experience in the sector, AEC Illuminazione can support architects and designers in creating a harmonious commercial environment where light is distributed correctly and uniformly. Contact us and we will support you in the best choice for your large scale retail lighting.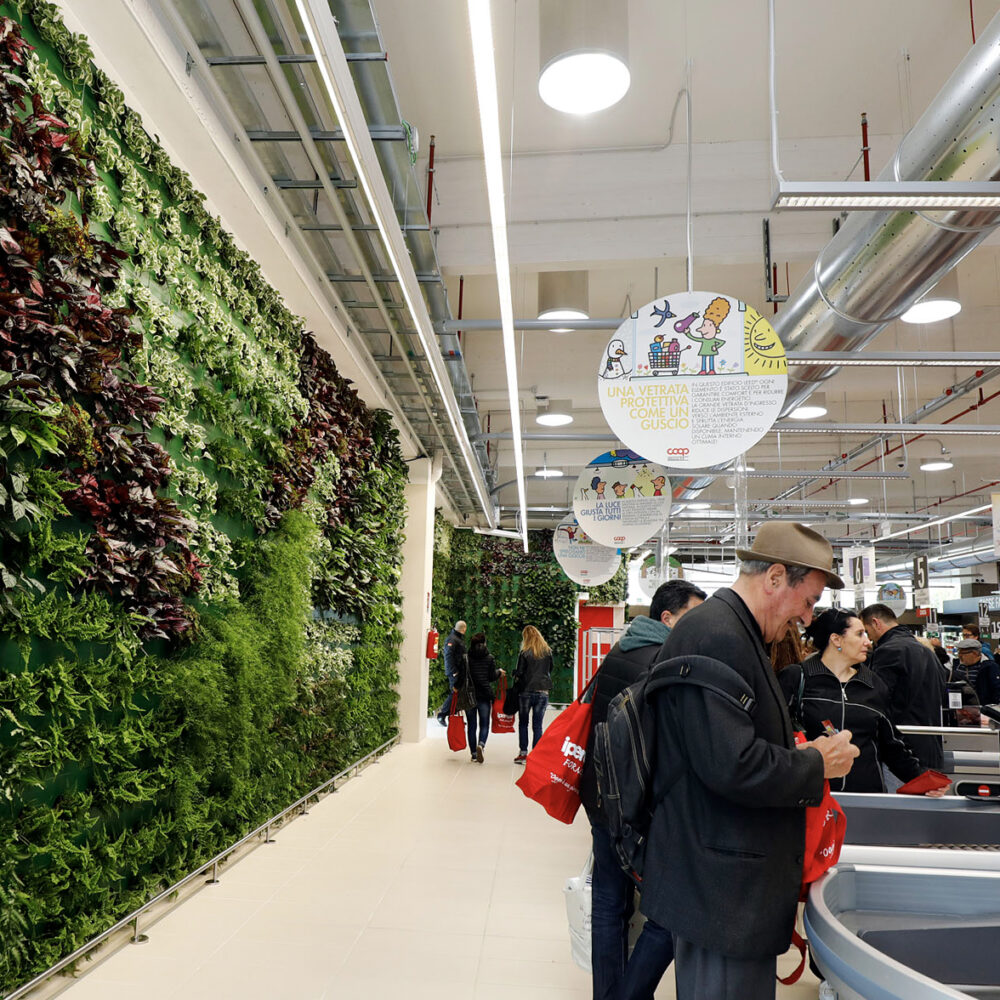 Visual comfort for the buyer and for those who work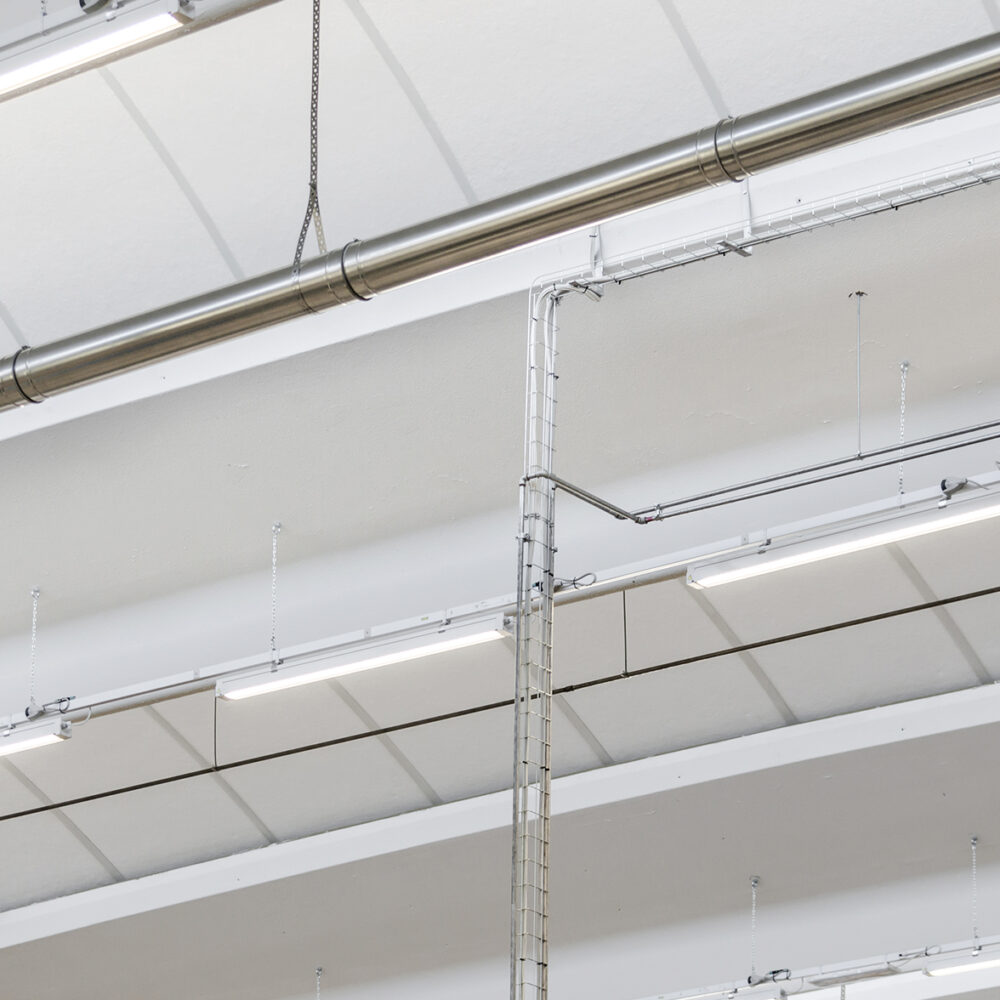 Choose the right colour temperature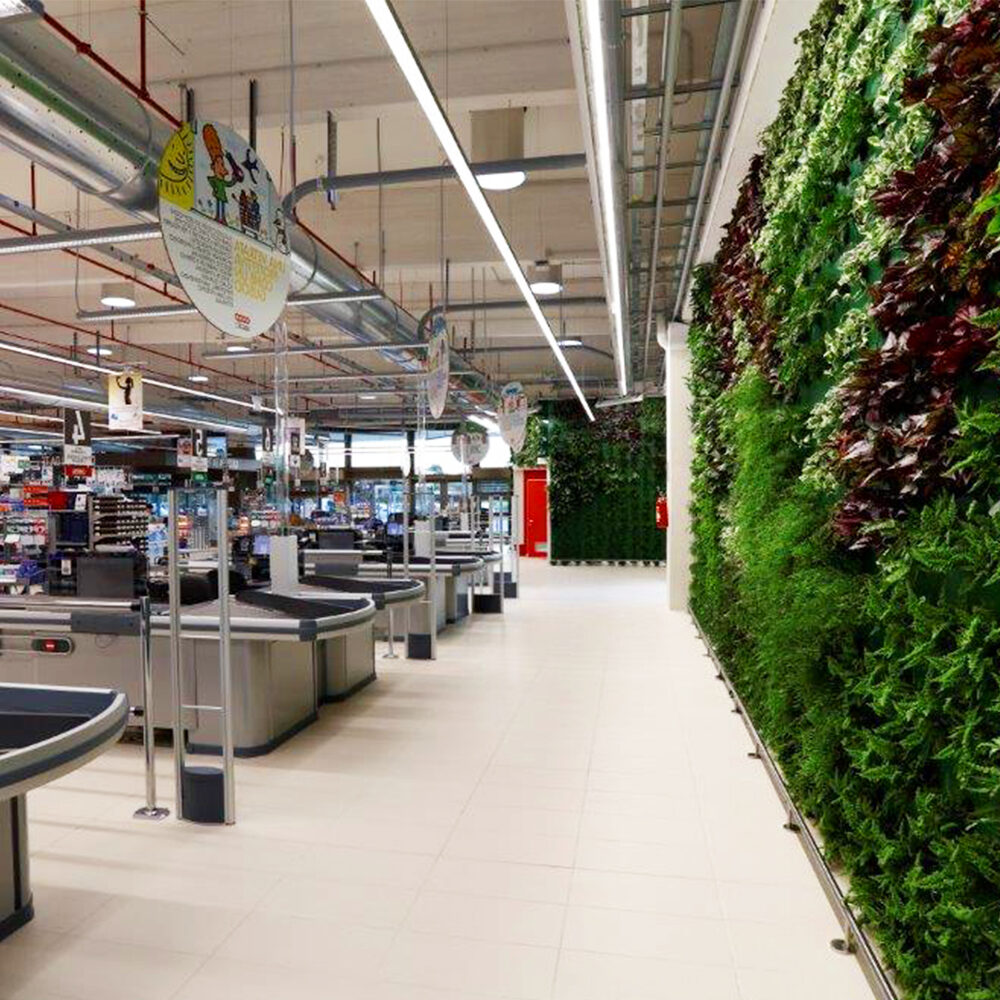 Distribute the light evenly
Reducing operating costs is simple
The LED lighting of commercial spaces opens up infinite possibilities for savings. Thanks to this technology, energy and maintenance costs are significantly saved. Further savings will also be possible thanks to automatic light controls. AEC lighting supports you in choosing intelligent lighting systems capable of illuminating every area where and when it is really needed.
Use light sensors for greater savings
By choosing LED floodlights for shopping centers you can use light sensors that, based on the amount of natural external light, adjust the level of internal lighting accordingly.
An all-around complete project
We give the right light to each area
AEC Illuminazione also supports you in the LED lighting of the outdoor areas and therefore the entrance, parking and rest areas. But not only: for a complete LED redevelopment project, we also offer solutions to illuminate warehouses and hangars in a smart way with guaranteed energy saving.
What can be achieved with LED light?
LED lighting is a fundamental aspect of the design of shopping centers and large retailers. With LED light you get the functionality of the place, advertisements and arouse emotions in the buyer. At AEC Illuminazione we think that light can really enrich a commercial space by giving it that extra touch that can make the difference.
Functionality
With LED lighting you create a functional environment where people, thanks to the right level of light, can move strategically and find the right things in the right place.
Commercial break
If the light is adjusted correctly and does not create any visual disturbance, people will feel in a welcoming place. This will inevitably increase the positive reviews of the place.
Emotion
Lighting must accompany the message to be communicated and at the same time create lighting effects that arouse interest. In this sense, the possibilities offered by LED technologies and new technologies are enormous.
Other advantages in evidence
By purchasing LED technology floodlights for the lighting of shopping centers and large distribution, many advantages are obtained, many of which cannot be underestimated.
You might also be interested in learning more…
We follow you in every design phase
Energy analysis
Tailored for you.
Regardless of whether you are replacing some fixtures or completely renovating the lighting system, we can help you find the best possible solution, with a view to energy saving and performance. Ask us for a free consultation, together we will create a detailed plan tailored for you by analyzing the pre-existing situation.
Light consultancy
Our know-how at your service.
AEC Illuminazione's know-how is at your service. We will help you create the most effective long-term lighting plan possible: from a completely new installation to a simple LED retrofit. Rely on us to receive personalized and targeted advice according to your real needs.
Sales support
Dedicated assistance.
With our commercial network, present in every Italian region and in 40 countries around the world, we can directly serve all markets and offer an efficient and targeted service to our customers. Contact us for a no-obligation advice on how to make your lighting system more efficient and get a quick return on investment.
Contact us for a free consultation
Trust the professionalism of an Italian company and the quality of 100% Made in Italy products